$49.99
NZD
Category: Children's Fiction
A mythical monster, a kingdom in peril, an adventure that will test two children's bravery to the limit. Discover a brilliantly original fairy tale about the power of hope and friendship to triumph against all odds, from one of the world's best storytellers. The kingdom of Cornucopia was once the happie st in the world. It had plenty of gold, a king with the finest moustaches you could possibly imagine, and butchers, bakers and cheesemongers whose exquisite foods made a person dance with delight when they ate them. Everything was perfect – except for the misty Marshlands to the north which, according to legend, were home to the monstrous Ickabog. Anyone sensible knew that the Ickabog was just a myth, to scare children into behaving. But the funny thing about myths is that sometimes they take on a life of their own. Could a myth unseat a beloved king? Could a myth bring a once happy country to its knees? Could a myth thrust two children into an adventure they didn't ask for and never expected? If you're feeling brave, step into the pages of this book to find out… A beautiful hardback edition, perfect for sharing and gift-giving. Brought to life with full-colour illustrations by the young winners of The Ickabog competition.   ...Show more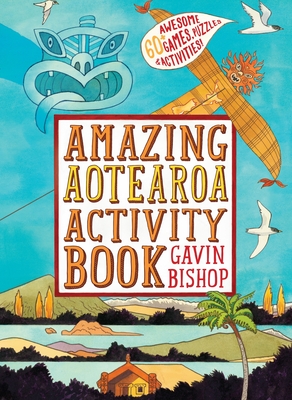 $25.00
NZD
Category: Children's Picture Books
5 -12 Years Old. You'll have lots of creative fun with this book full of puzzles, quizzes and activities that explore Aotearoa New Zealand and its people. Based on Gavin Bishop's bestselling Aotearoa- The New Zealand Story and Wildlife of Aotearoa, this activity book is a place for you to tell your own story in words and pictures.You'll- learn to introduce yourself in Maori- solve puzzles and crack codes- play games- invent a superhero- draw your future home- make maps- curate your heroes in a wall of fame- design a flag- create a menuand much more!Packed with quizzes, mazes, colouring pages and activities designed to stimulate bright minds, this is the ideal activity book for creative children aged 5-12. ...Show more
$18.00
NZD
Category: Children's Fiction
In The Deep End, book 15 of the Diary of a Wimpy Kid series from #1 international bestselling author Jeff Kinney, Greg Heffley and his family hit the road for a cross-country camping trip, ready for the adventure of a lifetime. But things take an unexpected turn, and they find themselves stranded at an RV park that's not exactly a summertime paradise. When the skies open up and the water starts to rise, the Heffleys wonder if they can save their vacation-or if they're already in too deep. And don't miss Rowley Jefferson's Awesome Friendly Adventure, an all-new fantasy from Greg's best friend-the follow-up to the instant #1 bestseller Diary of an Awesome Friendly Kid- Rowley Jefferson's Journal.   ...Show more
$18.00
NZD
Category: Children's Picture Books
New Zealand's favourite story celebrating the Maori performing art of kapa haka is great for the whanau to read together! These are the poi that circled and twirled above the heads of the singing girls who wore the piupiu that swished and swirled, made from the flax that Koro cut, that the mussel shell scraped, that the kuia made, that swung from the hips of the girls in the kapa haka. ...Show more
$35.00
NZD
Category: Chidren's Maori Language
Kei hea o putu whutuporo? Where are your rugby boots? Homai te ranu tomato. Pass me the tomato sauce. Kei te pehea te huarere i tenei ra? How is the weather today? Kei hea to mahi kainga? Where is your homework? Kati te whakaporearea i to tuahine! Stop annoying your sister! Maori at Home is the perfect introduction to the Maori language. A highly practical, easy and fun resource for everyday New Zealanders, it covers the basics of life in and around a typical Kiwi household. Whether you're practising sport, getting ready for school, celebrating a birthday, preparing a shopping list or relaxing at the beach, Maori at Home gives you the words and phrases - and confidence - you need. ...Show more
$23.99
NZD
Category: Children's Picture Books
A very special child has been born ... By the light of a bright star, the shepherds and the three wise kings set off to visit Mary, Joseph and baby Jesus.  Designed especially for little ones, this die-cut board book is the perfect introduction to the story of Christmas.
$18.00
NZD
Category: Children's Picture Books
From the creator of modern classic Meerkat Mail comes a very funny woodland story showing the dangers of having too much stuff. Too Much Stuff is based in the same forest as Gravett's award-winning Tidy, it features a host of gorgeous woodland animals, including Pete the badger.Meg and Ash are a pair of magpies who are building a nest for their perfect eggs. Although they begin their nest construction using the usual mud, sticks and grass, Meg and Ash are soon convinced that their nest doesn't have enough stuff and begin to collect more things to add to an ever-growing pile. From cuckoo clocks to mops and socks, a pram and even a car – their need for stuff seems endless. Until – crash! – the inevitable happens.Emily Gravett's engaging, exquisitely illustrated story will appeal to fans of Tidy and of such classics as The Animals of Farthing Wood. ...Show more
$16.00
NZD
Category: Children's Picture Books
A funny lift-the-flap story for Little Kiwi fans about pesky sounds and other 'reasons' not to get to sleep, by bestselling author Bob Darroch. Yikes, what's that noise? All Little Kiwi wants is to have a snooze, but his sister and her friend are having a sing-song. So off he goes to find a quiet spot for his nap. But there are other creatures making music, too . . . A funny and relatable tale for littlies about dealing with pesky sounds and other 'reasons' not to get to sleep, with Bob's signature humour always enjoyed on different levels by adults and kids. ...Show more
$17.00
NZD
Category: Children's Fiction
Go Go is confident and creative about her clothes, even though most of them are hand-me-downs from her three older brothers. The only new things she ever gets are underwear and shoes. That's why she loves new shoes, especially her latest and most precious silver shoes. But despite her mother's warnings, Go Go wears them on a family picnic and loses one in the creek. Go Go is devastated, but continues to wear her one remaining silver shoe, until one day a new girl at school realises that she has one just like it... A beautiful story about being confidently individual and about the power of friendship. ...Show more
$19.00
NZD
Category: Children's Fiction
'Biddy, I'm sorry, we're going to have to leave her.' 'What?' Biddy struggled out of the quicksand. 'You can't leave her! The tide's coming in. She'll drown!' But the pony is trapped and Biddy is forced to go on without her. Next day the only signs of Bella are hoofprints in the sand with small footp rints and the paw marks of a dog. Who could be so small and be alone on this remote beach? Biddy's search takes her into wild, secret country where she discovers the truth about a mysterious disappearance that happened many years ago. Alison Lester's picture books are loved by families all around the world. In this timeless Australian children's classic, she proves herself as a born storyteller. ...Show more
$16.99
NZD
Category: Children's Picture Books
A wild chase that takes the Queen, the King, the Admiral, the Captain, the General, the Sergeant and even the little dog through the night.
$21.00
NZD
Category: Children's Fiction | Reading Level: very good
"A true genius . . . Roald Dahl is my hero" - David Walliams "So Matilda's strong young mind continued to grow, nurtured by the voices of all those authors who had sent their books out into the world like ships on the sea. These books gave Matilda a hopeful and comforting message: You are not alone." Ma tilda is the world's most famous bookworm, no thanks to her ghastly parents. Her father thinks she's a little scab. Her mother spends all afternoon playing bingo. And her headmistress, Miss Trunchbull? She's the worst of all. She's a big bully, who thinks all her pupils are rotten and locks them in the dreaded Chokey. Despite these beastly grownups trying to push her down, Matilda is an extraordinary girl with a magical mind. And she's had enough. So all the terrible adults had better watch out, because she's going to teach them a lesson they'll never forget Now you can listen to MATILDA and other Roald Dahl audiobooks read by some very famous voices, including Kate Winslet, David Walliams and Steven Fry - plus there are added squelchy soundeffects from Pinewood Studios ...Show more