Welcome
Welcome to Wanaka's only independent bookshop in the heart of the beautiful Southern Lakes.
We hope our books will introduce you to some of the best local, national, and international writers and renew your passion for the classic favourites we have always loved.
In these unpredictable days of Covid we hope our shop brings you delight and joy through books.
Happy browsing.
Jenny and Sally
---
Browse by category
Contact The Next Chapter
tel : 021 090 46330
---
Email : books@nextchapterwanaka.co.nz
---
Store Hours
Monday : closed
Tuesday to Saturday : 10am – 5pm
Sunday & Public holidays : 10am - 3pm
---
Visit
72 Brownston Street
Wanaka, New Zealand
---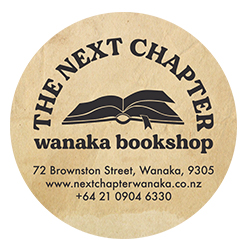 Anzac Weekend Hours
We'll be closed on the morning of ANZAC Day (25 April), but open from midday on that day and also open on the Monday 26th Public Holiday from 10am - 3pm. Come and pick up a holiday weekend read!
$40.00
NZD
Category: History
In the First World War of 1914-1918, thousands of boys across Australia and New Zealand lied about their age, forged a parent's signature and left to fight on the other side of the world. Though some were as young as thirteen, they soon found they could die as well as any man. Like Peter Pan's lost boys , they have remained forever young. These are their stories.This extraordinary book captures the incredible and previously untold stories of forty Anzac boys who fought in the First World War, from Gallipoli to the Armistice. Featuring haunting images of the boys taken at training camps and behind the lines, these tales are both heartbreaking and rousing, full of daring, ingenuity, recklessness, random horror and capricious luck.A unique perspective on the First World War, THE LOST BOYS is military history made deeply personal, a powerful homage to youthful bravery and a poignant reminder of the sacrifice of war. ...Show more